"If Copenhagen were a person, that person would be generous, beautiful, elderly, but with a flair. A human being that has certain propensities for quarrelling, filled with imagination and with appetite for the new and with respect for the old – somebody who takes good care of things and of people." Connie Nielsen
In Copenhagen popped up the world's first supermarket created exclusively with surplus goods: WEFOOD was opened in February 2016 by DanChurchAid ngo and it's located at Amagerbrogade.
Fighting famine and food insecurity worldwide has been a priority for the Danish charity organization, since 1922. DanChurchAid's aim with Wefood is to reduce the amount of food waste in Denmark and to raise money for the organization's philanthropy in developing countries.
Is it the Robin Hood of the modern era? Maybe.
First of all, it is hoping to help reducing the 700,000 tons of food waste that Denmark produces every year.
Wefood sells goods which regular supermarkets can no longer commercialize due to exceeded 'best before' dates, incorrect labels or damaged packaging. The products on the shelves of Wefood are still edible and absolutely safe to consume according to the Danish food legislation, but they have simply lost their value to the partners donating them.
The surplus store has special agreements with an importer of citrus fruits, butchers and producers of organic fruit and veggie; it also has a deal with one of the biggest supermarket chains in Denmark (Føtex) for bread and other products.
Everything is possible thanks to the multitude of volunteers who pick up the produce from the suppliers and preside the retail shop.
Someone could not perceive this as a positive and politically correct way to approach the issue. But the aim of Wefood,  where mainly food products are sold with a significant discount (30-50%) over the market price, is simply to be a shop for everyone!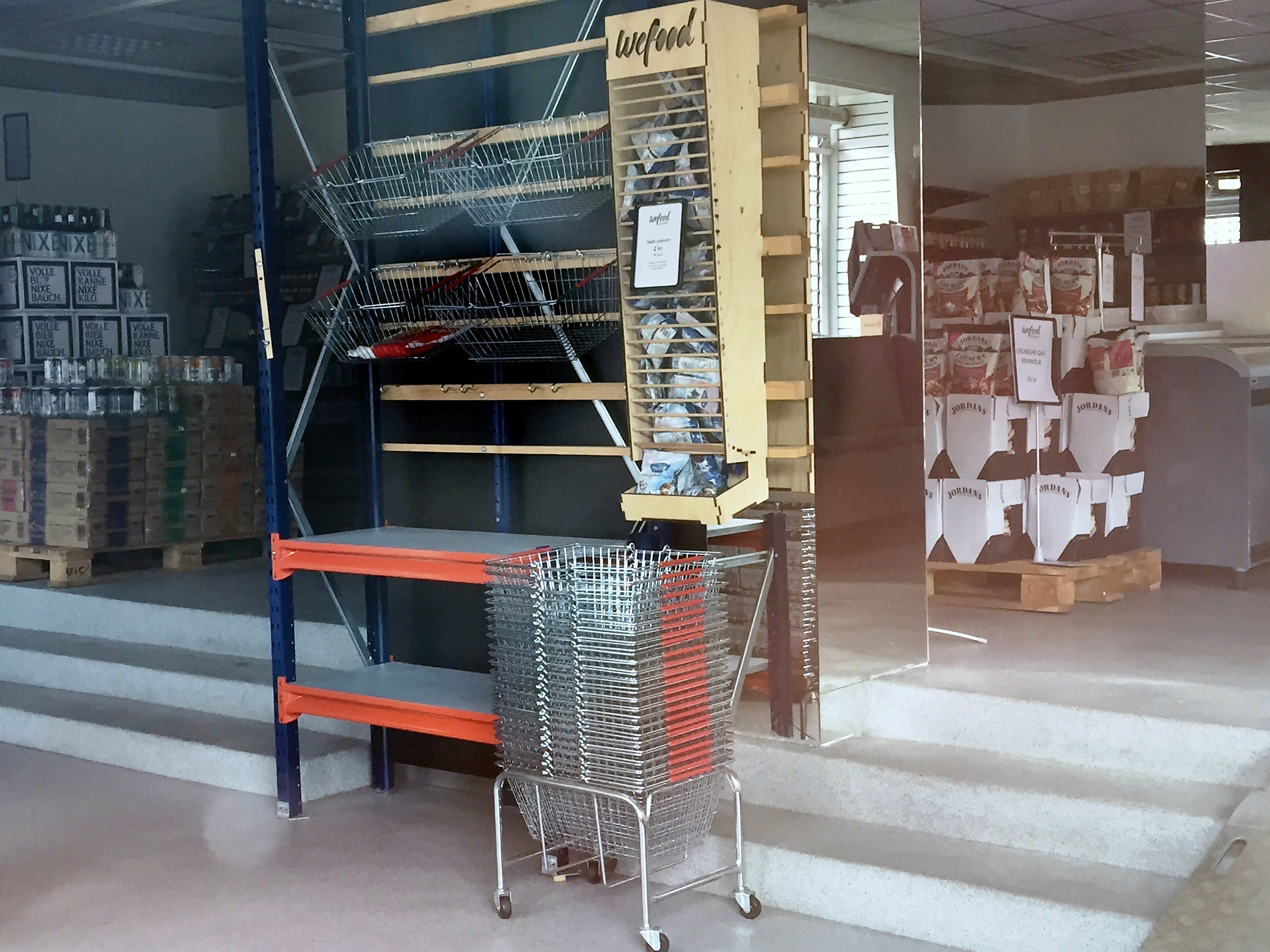 https://donate.danchurchaid.org/wefood

Moreover, its activity is taking care of the impact of food industry over environment, considering that food waste also contributes to climate changes: food production, distribution, consumption and disposal expend a tremendous amount of energy and water and leaves a significant carbon footprint on our planet.
The shop quickly became a success and therefore DanChurchAid has decided to open one more. The new Wefood store opens Monday the 7th of November at 4 pm at Nørrebrogade 58, 2200 Copenhagen!
Here Wefood's three good reasons to join them:
Together we fight food waste
Meet other volunteers and get new friends
Make a difference in the world
Unfortunately, nowadays overproduction is a concrete fact, it's not an easy problem to solve because it's an intrinsic element of current market's logics, but it's not a sufficient reason to ignore it. The solution practiced by the Danish charity, represented by WeFood, is an useful illustration for everyone of how a national legislation could simplify the processes and sustain the local economy of single and families and how indigents have not only right to receive just leftovers of rich persons or surplus of whom has too much. It teaches us, instead, that through concrete projects it is possible to give back dignity to people in two directions: for one side  building specific helps to countries that are fighting to defeat permanently Hunger and on the other side offering a strong example of humanity, contagious, offered by persons who donate their time with no reward except to be part of a community which believes in the same values.
It's a model to export that will hopefully be adopted soon by other countries.
Well, where will be the next WeFood?!